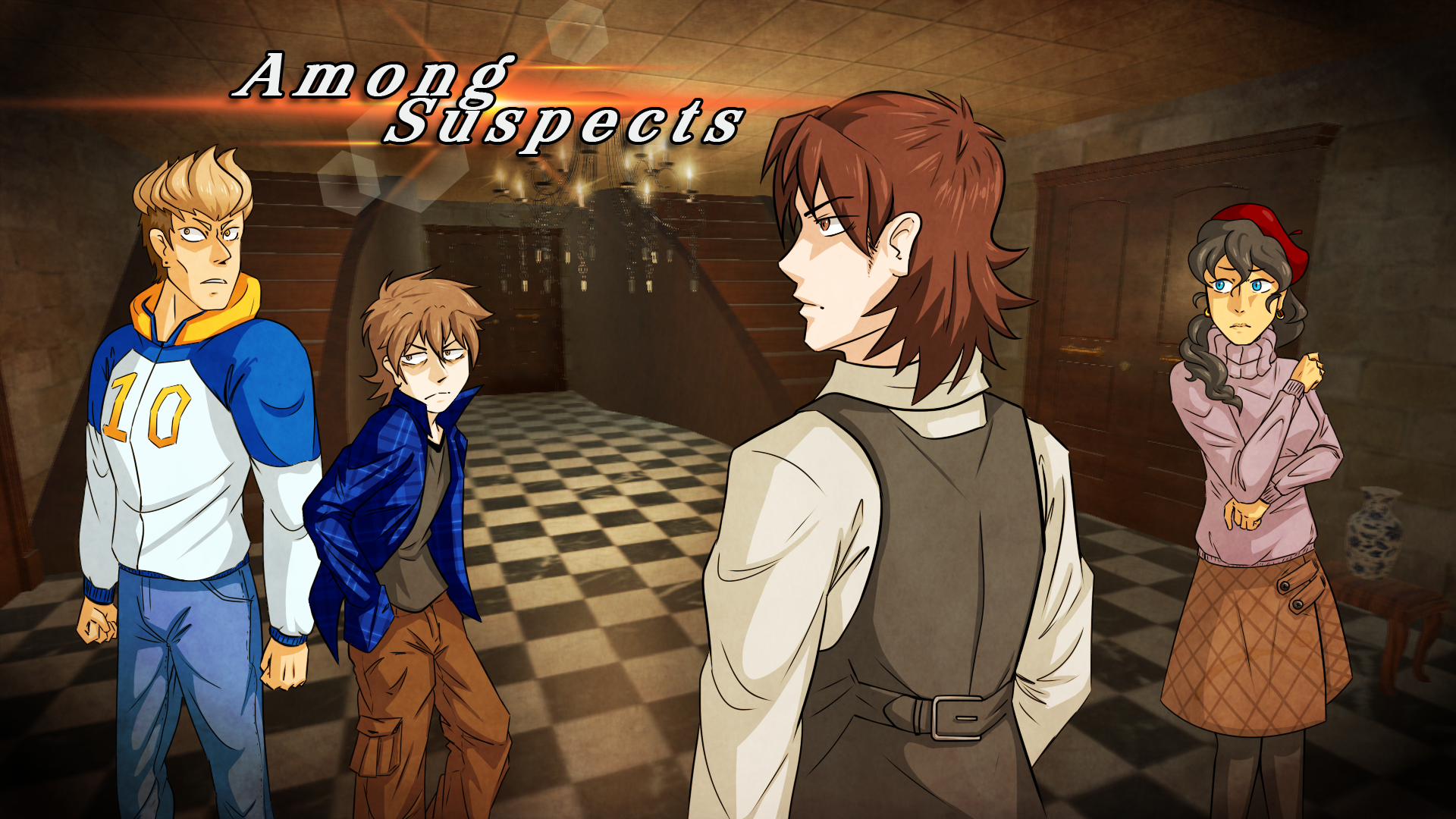 Among Suspects
A downloadable game for Windows
Overview
You're a young journalist who's trapped inside a mysterious mansion with his former classmates, and one of them is the murderous master-mind.
Explore, search for clues, gather testimonies, and find out who the killer is. Everybody's a suspect! Your only true ally: irrefutable evidence.
Synopsis
James Watson used to be an ordinary young journalist who happened to enjoy reading novels, but a mysterious accident that left him amnesiac changed his life from one moment to another. Now, he doesn't remember any of his close relatives - not even his own loving girlfriend.

Not too long after the accident, he is invited to a "class reunion" party, which is going to reunite all of his old friends from high school in an old manor located in the outskirts. Thinking that this might be a good opportunity to remember events from his past, he decides to attend with his girlfriend; he surely was not expecting that they would end up trapped inside while being witnesses of a hideous death bath. In the turmoil of panic and despair - and without remembering any of your old classmates - there's no one you can trust: everybody has become a suspect...
If you want to escape from the murderous master-mind that is lurking in the dark, you must use all the power of your deductive logic.
Key Features
Explore a big and complex mansion in a gorgeous, realistic 3D environment.
Search for clues and objects to pick up - they may become useful later on.
Talk to former classmates, get to know them, and learn about your forgotten past.
Investigate crime scenes, and put your detective skills to the test in the hunt for evidence.
Refute lies and uncover the truths in heated debates; anyone can be the culprit, and it's up to you to figure out who.
Credits
Made by the following students from the Image Campus institute in Argentina:
Elia, Octavio - Art Direction
Ibarra, Santiago - Environment Artist
Laiño, Emiliano - Sound Designer
Mosconi, Ignacio - Technical Leader
Nuñez, Gaspar - Game Designer
Perugini, Leo - Producer / 2D Artist
Provenzano, Pedro - Music Designer
The game was also possible thanks to the support of the following professors:
Baretto, Sergio
Magariños, Roy
Taboada, Eugenio
Vergez, Andrés
Install instructions
Decompress the zip file.
Run the executable.
Be ready to be trapped inside the mysterious mansion...
Comments
Log in with itch.io to leave a comment.
As Usual Gameplay from Z9ZGAMES Channel!!
With All Thanks to the Creator of the Game!!